[BITF] BACK IN TIME FRIDAY
Man oh man! What can I say about this game. This game is magical and is probably #1 in a lot of gamer's hearts. Legend of Zelda: Ocarina of time was originally released in Japan on November 21th, 1998 and on November 23th in America. This game was a giant and I mean a big ass step forward for Nintendo because before Ocarina of time we had Link's awakening that was released on the old/original Gameboy back in 1993, so when fans first got their hands on OoT they pretty much JIZZED IN THEIR PANTS.
Now I personally did not play the game when it first came out because i was only 7 but i did however watch my older brother who was 12 at the time play, and like all younger siblings all you did was watch and be amazed! Obviously the older I got, the better I got a games and when I was 9, I managed to finish the game all by myself and man was that an amazing day for me! But enough about my awesome life time to dig in and talk about why i love this game so much.
Here are my top ten things i love about this game
10. Graphics – From 1993 to 1998 Nintedo really out did themselves, at the time the N64 graphics where the most amazing and advance graphic we had ever seen and i personally thought the characters looked so real, and if the graphics are too "old" for your taste well the game was re-released on the 3DS in 2011.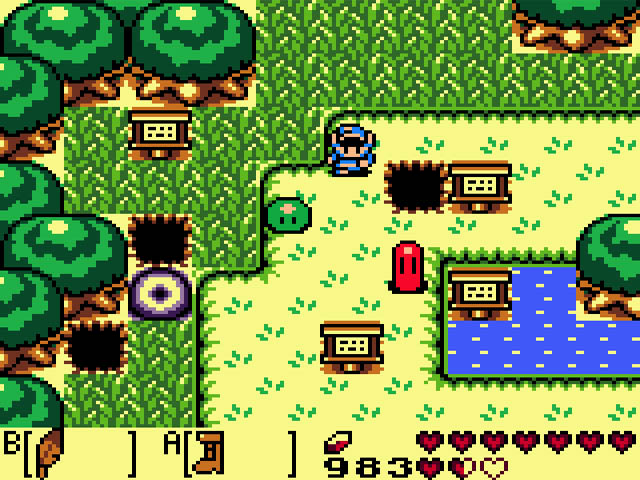 9. The story – The story is amazing, obviously it has its flaws like any other game but it's nearly perfect. The story revolves around a young boy named Link who is chosen by the Gods to be the land's saviour (Hyrule) but in order to save the land and Princess zelda whom he meet later, he needs to travel in time (7 years to be exact) because they are some events he needs to face as a child and as an adult. Now i wont go too deep into details cause i dont want to spoil anything for those who have not played this game, but please if you can, please play it! It's an amazing game.
8. The items – Like any other zelda game, you collect numerous items on your way to saving the land. You've got your sword,shield,bow,hammer,etc… But personally my favorite is the longshot. Thanks to this bad boy you can reach places you originally couldn't!
7. music – Like it says on the title of the game, most of the songs revolve around a small instrument that Link finds called The Ocarina of time. The music of this game is beautifully crafted and i bet that alot of zelda fans out there have the OST of this game in their mp3,phone,etc…My favorite tune is probably the guerudo valley theme and serenade of water, just press play and you'll hear why.
6. Side quest – Not only is the main quest filled with action and adventure but the game also has a big amount of side quest you can do in order to finish the game at 100%. These side quest can vary between you being a child or an adult. These quest normally don't help you,but some make the main quest easier. As a true fan and gamer you just gotta do them!
BUT THE MOST F!@#ING ANNOYING SIDE QUEST OF THEM ALL HAS TO BE GETTING THE STUPID HORSE EPONA BECAUSE TALON IS AN ASS AND GETTING THE LAST EMPTY BOTTLE, BECAUSE RUNING AROUND HYRULE WASN'T ANNOYING ENOUGH NOOOO YOU GOTTA FIND 10 BIG POES IN ORDER TO GET THE 4TH BOTTLE BUT HEY IF YOU SCREW UP ON GETTING EPONA, GETTING POES WILL BE EXTRA LONG!!!! LIKE I DONT KNOW HOW MANY TIMES I'VE TRIED BUT THOSE TWO ALWAYS GAVE ME A HARD TIME!!! FUUUUUUUUUUUUUU….
5. Epona – Now despite me raging on trying to get her, she is still a fantastic addition to the zelda universe. I mean come on after a while walking or running from one place to another can get really…really….looooooooooooooooooooong….heck even side jumping can get annoying after a while.
But once you reach Lon Lon ranch (as an adult), getting epona is a must! Your quest gets alot easier and also she is super adorable!
4. The tunics – These are part of the items but felt the need to talk about them separately because they are awesome! You've got your standard and iconic green tunic (Kokiri tunic)
Then later you get the red tunic (Goron tunic) that helps you go inside an active volcano without bursting into flames or fainting from a heat stroke!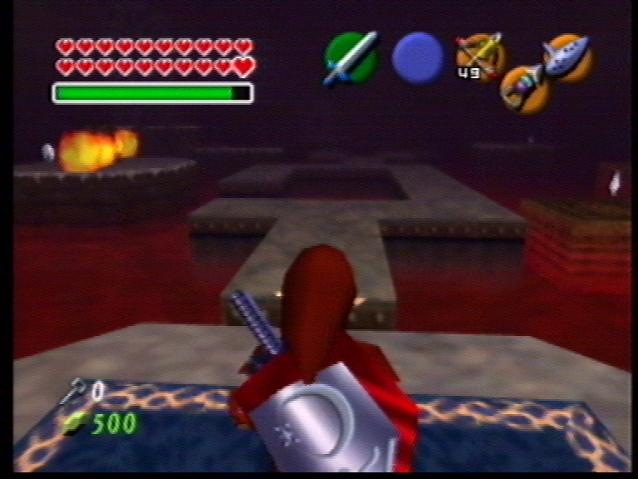 And last but not least we get the blue tunic (Zora Tunic) that helps you breath underwater, I mean how cool is that!
3. The temples – What's a Zelda game without it's temple right? Now this game has 5 temples: forest,fire,water,shadow and spirit. What i love about each temple is that there is always something new and different within each one. Example in the spirit temple you do 50% of it as a child and the other 50% as an adult, how creative is that right?
Oh but what kind of fan would i be if i didn't mention the one temple that ruind kid's childhood…….THE F@#$ING WATER TEMPLE!! THAT PIECE OF S@#$ WAS LONG AND ANNOYING. IT'S CONFUSING AS HELL AND NO MATTER HOW MANY TIMES YOU DO IT, YOU'LL ALWAYS FORGET THAT ONE KEY THAT F@#!S YOU OVER!! ARGGGGGGG!!!!
2. The bosses – What's a temple without it's iconic boss battle. With the help of the item you pick up while doing the temple, you fight off the boss and in the end get rewarded with a heart container (increases your health bar by 1) and a spirit medallion. My favorite boss battle has to be Bongo Bongo from the shadow temple, I don't know why it's just a fun fight i guess!
1. Ganon's castle – So you beat all the temples,learned every song,got every item and you health bar is at its max. You my friend are ready to face the one and only Ganondorf, so you reach the castle and expect an epic battle between good and evil, wait whats this? You need to face 6 different trials in order to get raid of the barrier that proventing you to face Ganon? SWEEEEEETTT!! I think it was an awesome touch, that in order to face him you gotta go through these small trials that are kinda like mini versions of the temples you faced before. Once all trails all done you go up and up and up and up and up……….up………..the stairs till you reach and ganon and fight against him and hopefully you don't suck.
Well that was my top ten favourite things about OoT, if you liked what you saw and read please leave a comment below. Also wanna stay up to date with us on tv shows, games, movies, media, etc? Than don't forget to like and share us on facebook and twitter!